A fleet of purple paper airplanes flew inside a classroom at Lincoln's Norwood Park Elementary School on April 24 during an afterschool "Little Scientists" club's online visit from one of the students' most vivid heroes.
The launch was led by Professor Sko (a persona developed by community college physics professor Brenda Skoczelas), who creates science lesson videos and stars in stage shows to encourage young people to enjoy STEM (science, technology, engineering and math).
Currently based in Florida, Sko visited the Norwood Park club via Zoom. She wore a purple lab coat with science-themed patches and rainbow slinky toys bisected her long, auburn hair as she smilingly explained to the students how Bernoulli's Principle shapes the way birds and aircraft fly. Sko's friendly face was projected from a laptop onto the classroom's big screen, where a dozen kindergarten through second grade students greeted Sko like a celebrity. For the past month the club's mentor, a Lincoln Public Schools' Community Learning Centers (CLC) employee, had showed the group several Professor Sko videos and led related activities; many of the club members had become fans and wore safety goggles just like Sko.
Professor Sko's YouTube channel has more than 50 videos on science topics, interviews conducted with scientists, and discussions of daily activities such as sports (with a focus on the science involved)--free for any learner. Starting out three years ago, Sko's lively way of sharing science changed during the pandemic and she realized she could engage more young people in science through the Internet.
Groups who want more "sciencing" beyond the videos can request Sko Shows: online or in-person interactive visits. For these sessions, she connects with the requesting teachers and mails basic science equipment (her physics of air lesson set includes straws, aluminum cans and ping pong balls) that arrives in conspicuous purple boxes at classrooms. The contents help demonstrate scientific properties for young people whose first physics class might be years away.
"I want to inspire kids to love science, before their excitement for learning fades," said Sko. "My goal is to show them it's fun to find out the hows and whys of our world--and also that being a teacher is a great way to keep doing that. The colors, questions, and discoveries all help engage the students."
Sko Shows at Nebraska's Norwood Park and Bellevue Elementary Schools were supported by Nebraska EPSCoR, a program funded by the National Science Foundation to advance workforce development through research and broadening participation in science, especially with under-served communities including rural (or inner-city), low-income, and racially under-represented groups. For more information about Professor Sko, visit https://professorsko.com/ and https://youtube.com/@professorsko3278/.
###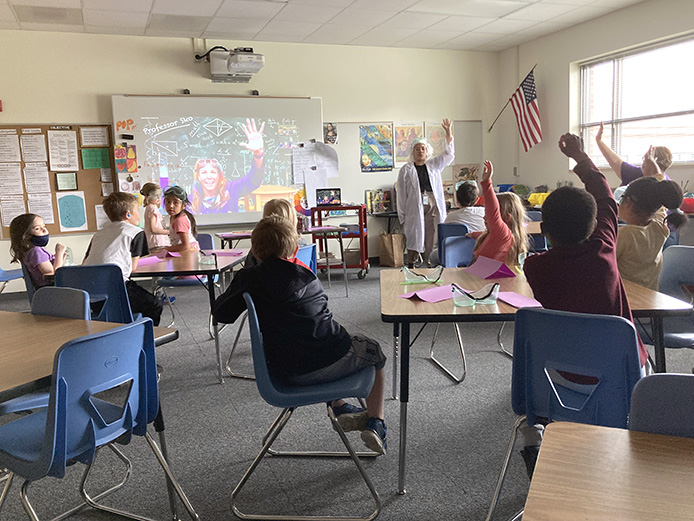 Photo caption: At Lincoln's Norwood Park Elementary School, the CLC afterschool program "Little Scientists Club" gets a Zoom visit from their hero, Professor Sko (on-screen), funded by Nebraska EPSCoR.

###