The National Science Foundation (NSF) EPSCoR has selected Nebraska EPSCoR as host for its upcoming biennial conference. The event, with 400+ attendees expected, will be October 13-16, 2024 in Omaha, Nebraska. The conference will run Sunday evening through Wednesday at the downtown Hilton Omaha hotel. The theme of the conference is "Connect and Collaborate to Keep Science Flowing."
EPSCoR is an acronym for the Established Program to Stimulate Competitive Research. The National Science Foundation is one of several federal agencies that conduct EPSCoR funding opportunities to advance geographic diversity in 28 jurisdictions that typically receive less funding for science, technology, engineering, and math (STEM) capacity and capability. With a competitive and diverse portfolio of investments, NSF EPSCoR envisions its jurisdictions as recognized contributors to the national and global STEM research enterprise, in areas from talent development to local infrastructure.
Visit the save-the-date event website at https://epscor.nebraska.edu/nsfepscorconf and check back for online registration, which will open there in early 2024. For more information, email epscornatlconf24@nebraska.edu.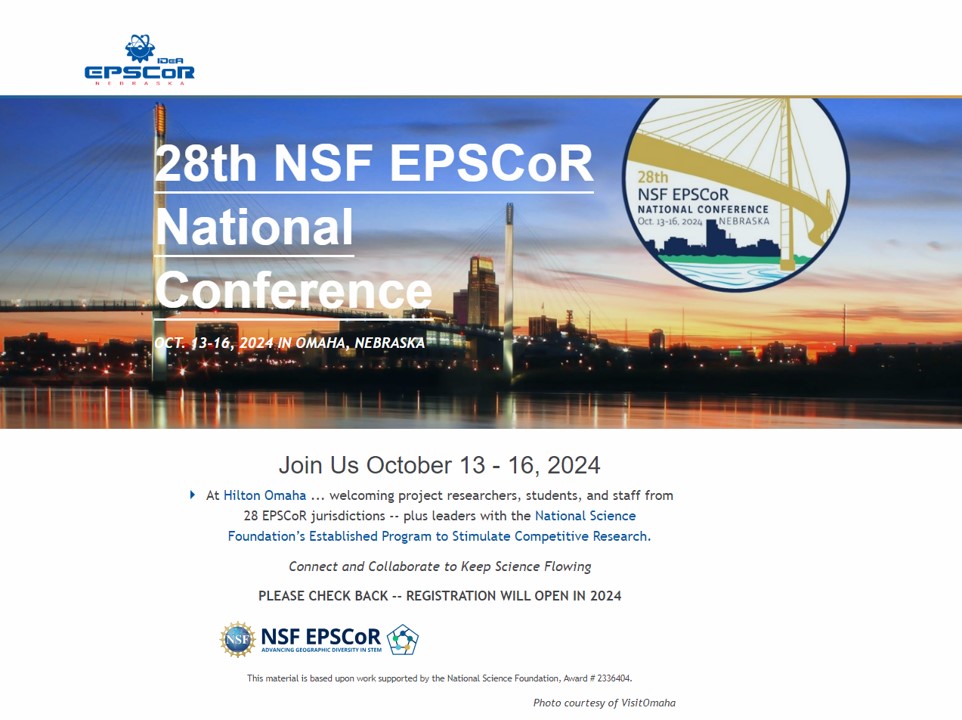 Image: screenshot of the NSF EPSCoR 28th National Conference (Oct. 13-16, 2024 in Omaha) shows a sunset view of the city's skyline from the Missouri River.