Allen Thomas, associate professor of Chemistry at the University of Nebraska at Kearney (UNK), saw an opportunity. In his lab of bright and capable students, one shared an idea for a research project—making molecules that block the enzyme that makes melatonin in the human body's pineal gland. The student thought there could be a way to maintain normal melatonin levels and decrease an over-supply of melatonin in people who struggle with Seasonal Affective Disorder.
Thomas framed the research as "Pyrophosphate bioisosteres as serotonin N-acetyltransferase inhibitors for treating circadian rhythm disorders" and proposed it for funding via Nebraska EPSCoR. Each year NE EPSCoR seeks proposals from small colleges and universities for projects that faculty and undergraduates can pursue as learning experiences; NE EPSCoR devotes part of its National Science Foundation funding to support such research experiences.
NE EPSCoR funded Thomas' proposed expenses: salaries to pay the student researchers for their summer work on the project. Thomas' team includes Josh Bohlke, a senior from Hastings who majored in Biology (with minors in Chemistry and Psychology), and Katie Lytle, a sophomore from Omaha whose majors are Chemistry and Education. After graduating, Bohlke plans to attend medical school, and Lytle would like to teach high school chemistry in the district where she grew up.
On weekdays this summer in Thomas' UNK lab, Lytle and Bohlke synthesize different compounds and do analysis on their reactions, to determine if they are making the correct molecules. They use various high tech instruments including Nuclear Magnetic Resonance (NMR), and research ways to purify the molecules so they can be tested against the enzyme that makes melatonin.
They often consult Thomas, who worked for 13 years as a chemist in the pharmaceutical industry before he joined UNK's faculty in 2014. He coaches them amid the varied challenges of day-to-day chemistry, and the long path from research to medicines. If their molecules are effective and sufficiently novel, a pharmaceutical company might take their work further. Thomas said basic research from academic groups may translate into drug development, though the process usually takes many years.
Meanwhile, Bohlke and Lytle said they enjoy this summer's work and will produce a research poster and perhaps a paper that could be published in a science journal. Someday, they might even see a further version of their work on a pharmacy shelf, helping people; even if that doesn't work out, this undergraduate research gave them an important hands-on experience and valuable training in how to think like a scientist.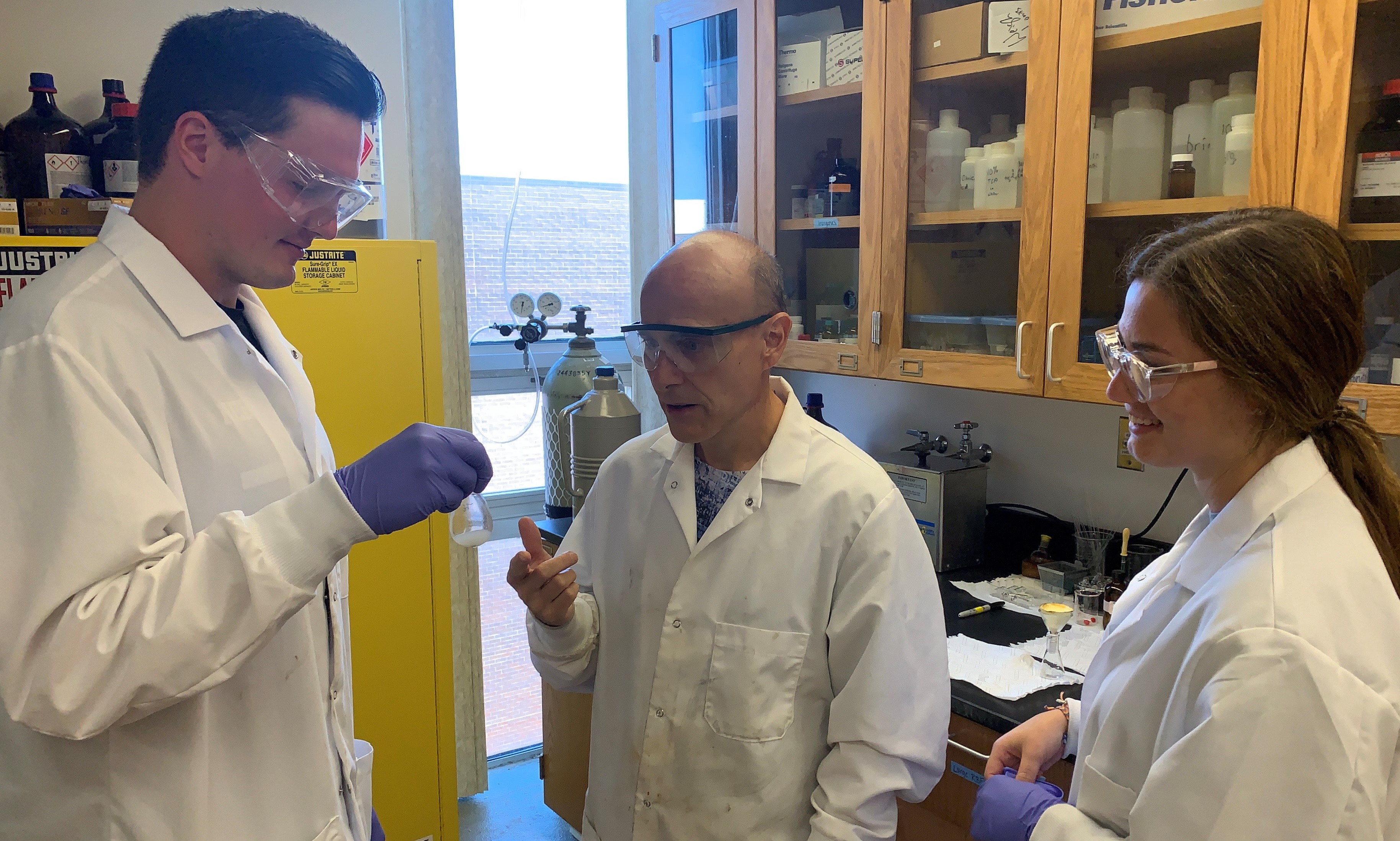 PHOTO: At the University of Nebraska at Kearney, undergraduates Josh Bohlke (left) and Katie Lytle (right) work with Associate Professor Allen Thomas in a chemistry lab. Their summer research project was funded by Nebraska EPSCoR, with resources from the National Science Foundation via the EQUATE collaboration (OIA-2044049).