Apply now for Summer 2020 youth plant science "Remote Researcher" paid positions across Nebraska

In creative response to COVID-19 limitations, a team of Nebraska scientists is going online to engage motivated high school students across the state in a way to join and learn from plant research experiences this summer. Applications are being accepted through June 8, 2020 for the paid opportunity: June 15 – July 31.
Jinliang Yang, assistant professor with University of Nebraska-Lincoln Agronomy and Horticulture, has explained the "Remote Researcher" opportunities at a website, https://ner2.org.
"Nebraska has several projects funded by the National Science Foundation for study of plants' root microbiome," Yang said. "Because we seek additional data from field plantings, we can fund approximately 10 high school students to grow our plants for six weeks. Participating students must have access to garden plots, dedicate a few hours each week to weed and to report on plant measurements, and ideally attend Zoom workshops at the beginning and the end of the program."
Yang said the workshops will initially pair the high school youth with UNL undergraduate or graduate students and faculty for mentoring of the youth. The Remote Researcher program culminates in a one-day online group learning session to analyze the data at the end of the program. Completing the program, each Remote Researcher will receive a stipend of $400 for their time.
"For this Remote Researcher program, UNL plant scientists and microbiologists are recruiting motivated high school students from across Nebraska to get involved in and contribute to a hypothesis-driven research project on plants and their root-associated microbes in a 'backyard science project,'" said Yang's colleague, Karin van Dijk, UNL associate professor of Biology. "This is a great opportunity for a student who likes science, especially plant and microbial science, and is interested in connecting to a dynamic research team at NU."
To learn more about this opportunity and to apply to participate, visit the project website: www.ner2.org. Yang and vanDijk encourage Nebraska high school students to apply immediately; selected students will be notified by June 8 and will receive participation materials by June 15. The Remote Researchers will grow corn and sorghum plants for a six-week period, collect data on these plants and ultimately dig up the roots to collect samples which will be analyzed at UNL to identify the microbiome (the collection of microorganisms) associated with these roots. vanDijk said the Remote Researchers will also learn to isolate a select set of microorganisms known as nitrogen fixers—a valuable biology learning experience.
Funding for these Remote Researcher positions is provided via Nebraska EPSCoR's Young Nebraska Scientists or "YNS" program (from NSF OIA #1557417) and UNL's Center for Plant Science Innovation, among other partners. "Covid-19 has challenged our typical summer hands-on activities for youth in 2020," said Nicole Busboom, outreach coordinator for Nebraska EPSCoR, who leads YNS camps and student researcher placements. "However, this Remote Researcher opportunity can be a new way to engage Nebraska youth in learning science, technology, engineering and math (STEM)."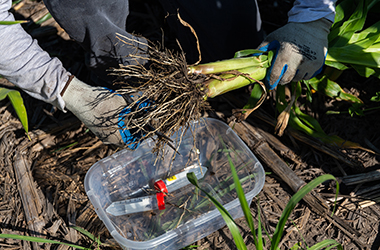 Image: Nebraska plant scientists study the roots of a corn plant at a field site.